Rapidly changing communication trends,
Authentic communication shines.
Insight

Creative

Professional
amPR is a company specializing in PR consulting that creates the value for companies.

Since our foundation in 2006, we have established and implemented effective communication strategies for various customers in response to line with changes in media·and consumer·trends.

Based on our insight and constant challenge spirit, we continue to establish and implement our integrated communication strategy.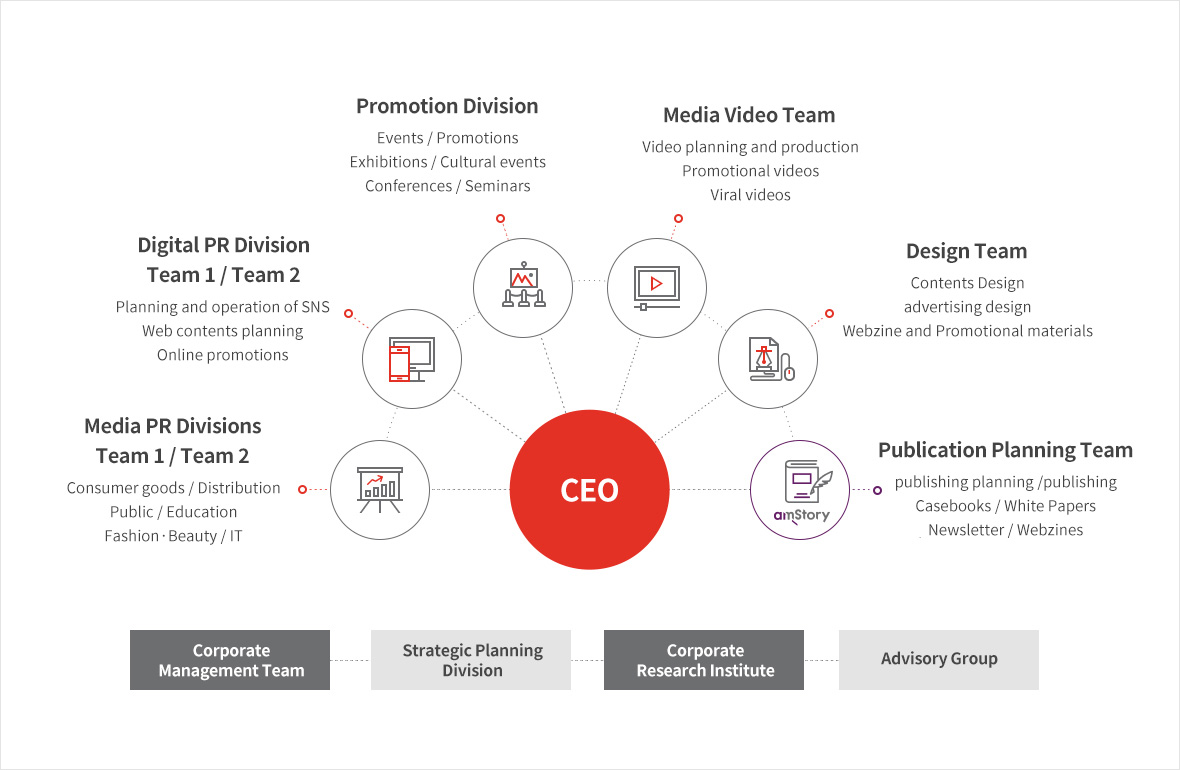 CEO
Media PR Divisions
Team 1 / Team 2

Consumer goods / Distribution
Public / Education
Fashion·Beauty / IT
Digital PR Division
Team 1 / Team 2

Planning and operation of SNS
Web contents planning
Online promotions
Promotion Division

Events / Promotions
Exhibitions / Cultural events
Conferences / Seminars
Media Video Team

Video planning and production
Promotional videos
Viral videos
Design Team

Contents Design
advertising design
Webzine and Promotional materials
Publication Planning Team

publishing planning /publishing
Casebooks / White Papers
Newsletter / Webzines
Corporate Management Team
Strategic Planning Division
Corporate Research Institute
Advisory Group
에이엠피알은 참신한 아이디어와 새로운 감각을 지닌
많은 분들의 입사 지원을 기다립니다.
01.모집분야

AE(디지털PR/언론PR), 콘텐츠 디자인, 영상촬영 및 편집 등
02.복리후생

장기 근속자 포상(리프레시 휴가) 팀 문화데이
/ 워크샵

경조금 지원
03.채용절차

STEP.01 입사지원 STEP.02 서류전형 STEP.03 1차 면접 STEP.04 2차 면접
04.지원하기

ampr@ampr.co.kr 로 지원서 상시 제출
(경험·경력 사항 중심의 이력서, 자기소개서 첨부)
Media PR

Press Publicity
Media Relationship Management
Risk Management Consulting, etc.
Digital PR

Planning and Operation of brand SNS
Digital Content Production
Digital Promotion, etc.
Marketing & Sales

Global Marketing Communication
Cross Cultural Communication
Sales & Marketing, etc.
Video

Video Content Planning & Production
Advertising & Promotional Videos
YouTube & SNS Planning Videos
Promotion

Event Planning & Operation
Exhibitions, Cultural Events
Conferences, Seminars, etc.
Design

Content Design
Advertising Design
Promotional Materials, Webzines, etc.
Publication Planning

Book Planning & Production
Case Books, White Papers
Newsletters, Webzines, etc
HEEYEON KIM
CEO
Reputation Management
and ESG Consulting,
Media Training
BRIAN CHUNG
GLOBAL STRATEGY OFFICER
Global Marketing Strategy,
Market Creator
Hanwha Group, Danish Embassy in Korea, Soongsil University, etc
VIVIAN KIM
HEAD OF EU OFFICE
Global marketing & Sales Strategy,
Global Strategic Communication
Korean Food Foundation, Seoul Global Marketing, Korea Tourism
Organization, Ministry of Justice, Prudential Life Insurance, etc
KYUNGEUN KIM
MANAGING DIRECTOR
Digital PR Strategy
Public and Corporate Strategic Communication
Ministry of Strategy and Finance, Korea Creative Content Agency,
Sulbing, Bank of Korea, Seoul Metropolitan Government, KEPCO, etc
EUNHEE SEO
DIRECTOR
Press PR Strategy
Media Management & Risk/Issue Management
Fila, Dunkin, Beer-K, KOICA, Korea Mars, Seoul Design Foundation, etc